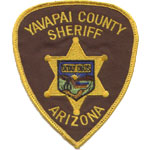 Yavapai County Sheriff's Office, Arizona
End of Watch: Wednesday,  January 1, 1902
Deputy Hawkins was shot and killed by a man who he had arrested earlier and the  man who had assisted him in his escape.
Deputy Hawkins had arrested a man  named Crocker in Jerome and had handcuffed him to the wheel of a wagon until  better accommodations could be found.  An acquaintance of Crocker's named Chew  helped him take the wagon wheel off the wagon.  They then broke into the  blacksmith's shop and killed the blacksmith's helper when he discovered them.   After they had removed the chain from the wagon wheel they set off to find  Deputy Hawkins.  At this same time, Deputy Hawkins had discovered the escape and  was going to Crockers' house.
The bad guys saw him first and fired, but  before Deputy Hawkins died, he was able to wound Chew.
The two murderers  then left town.  Deputy Jim Roberts set out after them and found them bedded  down several miles east of Camp Verde.  At first light he ordered them to  surrender, but they went for their guns.  Roberts had the drop on them and  killed them both.